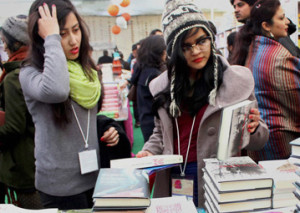 It is already July and we are six months into 2017. Many popular literary festivals are over whether it is Emirates Literary Festival in Dubai, United Arab Emirates or Jaipur Literature Festival at Jaipur, India.
However, all is not lost. Do look out for these if you are searching for one to go to.
Aug 13-29, 2017 : Edinburgh Literary Festival
Three weeks and more than 800 authors should not be the only reason to mark this on your calendar. The fact that Edinburgh is the largest literary festival in the world is quite a reason in itself. Past speakers have included Zadie Smith,  Susan Sontag, Jesse Jackson, Karl Ove Knausgaard, Neil Gaiman, Toni Morrison and more.
https://www.edbookfest.co.uk/
Aug. 24-27, 2017 : Mountain Echoes
The Eight edition of  Mountain Echoes literary festival is something to lookout for. It is an initiative of the India Bhutan Foundation, in association with Siyahi. The festival is presented by Jaypee group, powered by Department of Tourism, Government of Rajasthan.
Some people to look out for are Her Majesty the Royal Queen Mother Ashi Dorji Wangmo Wangchuck, Karan Thapar, Shashi Tharoor, Ashwin Sanghi and many more.
http://www.mountainechoes.org/
Aug 26, 2017 : UK Indie Literary Festival
This is a brand new festival for all literary geeks to consider. You can interact with Indie authors from all over United Kingdom who will assemble at this Literary Festival.  To top it, you can attend workshops to sharpen your writing skills or learn how to be a published author.
http://www.ukindielitfest.co.uk/
Dec. 8-11, 2017 : Goa Literature Festival
From inception in 2010, the unique, homegrown, volunteer-driven and non-profit Goa Arts and Literature Festival (GALF) has rapidly emerged as one of the premier cultural showcases of India.
http://www.goaartlitfest.com/