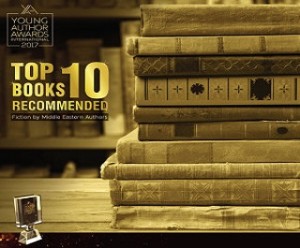 Middle East is dipped and enriched with literature that has been brought in front of the world more now than ever before. Not only have writers from this region living elsewhere started writing in English, but also writers from around the world, who have lived in Middle East have weaved their stories with the fabric of this region. More importantly, in recent years many popular Arabic works have been translated and appreciated world over building a Creative Bridge between Middle East and the Rest of the World. Here is a collection of  Top 10 recommended by us.
1. An Ishmael of Syria by Asaad Almohammad
Adam is a tortured soul. Exiled from his homeland, forced to watch the horrors unfold from afar. His family, still living – or surviving – in war-torn Syria struggle daily to feed, clothe, and educate their children.
Adam tries to be a 'global citizen' and become a part of his new community in Malaysia, but is constantly faced with intolerance, bigotry, and plain old racism. Opportunities are few and Adam finds himself working long hours for poor pay so that he can help his family.
The increasingly distressing news bulletins, along with Adam's haunting childhood memories, compel him to examine his own beliefs; in God, in humanity, in himself and his integrity as a reluctant bystander in the worst human catastrophe of the twenty-first century.
2. My Name is Red by Orhan Pamuk
The Sultan has commissioned a cadre of the most acclaimed artists in the land to create a great book celebrating the glories of his realm. Their task: to illuminate the work in the European style. But because figurative art can be deemed an affront to Islam, this commission is a dangerous proposition indeed. The ruling elite therefore mustn't know the full scope or nature of the project, and panic erupts when one of the chosen miniaturists disappears. The only clue to the mystery–or crime – lies in the half-finished illuminations themselves. Part fantasy and part philosophical puzzle, My Name is Red is a kaleidoscopic journey to the intersection of art, religion, love, sex and power.
3. The Map of Love by Ahdaf Soueif
In her latest novel, which was shortlisted for Britain's prestigious Booker Prize, she combines the romantic skill of the nineteenth-century novelists with a very modern sense of culture and politics--both sexual and international.
At either end of the twentieth century, two women fall in love with men outside their familiar worlds. In 1901, Anna Winterbourne, recently widowed, leaves England for Egypt, an outpost of the Empire roiling with nationalist sentiment. Far from the comfort of the British colony, she finds herself enraptured by the real Egypt and in love with Sharif Pasha al-Baroudi. Nearly a hundred years later, Isabel Parkman, a divorced American journalist and descendant of Anna and Sharif has fallen in love with Omar al-Ghamrawi, a gifted and difficult Egyptian-American conductor with his own passionate politics. In an attempt to understand her conflicting emotions and to discover the truth behind her heritage, Isabel, too, travels to Egypt, and enlists Omar's sister's help in unraveling the story of Anna and Sharif's love.
4. The Kite Runner by Khaled Husseini
"It may be unfair, but what happens in a few days, sometimes even a single day, can change the course of a whole lifetime." 
Amir is the son of a wealthy Kabul merchant, a member of the ruling caste of Pashtuns. Hassan, his servant and constant companion, is a Hazara, a despised and impoverished caste. Their uncommon bond is torn by Amir's choice to abandon his friend amidst the increasing ethnic, religious, and political tensions of the dying years of the Afghan monarchy, wrenching them far apart. But so strong is the bond between the two boys that Amir journeys back to a distant world, to try to right past wrongs against the only true friend he ever had.
The unforgettable, heartbreaking story of the unlikely friendship between a wealthy boy and the son of his father's servant, The Kite Runner is a beautifully crafted novel set in a country that is in the process of being destroyed. It is about the power of reading, the price of betrayal, and the possibility of redemption; and an exploration of the power of fathers over sons—their love, their sacrifices, their lies.
5. Snow by Orhan Pamuk
Dread, yearning, identity, intrigue, the lethal chemistry between secular doubt and Islamic fanaticism–these are the elements that Orhan Pamuk anneals in this masterful, disquieting novel.
An exiled poet named Ka returns to Turkey and travels to the forlorn city of Kars. His ostensible purpose is to report on a wave of suicides among religious girls forbidden to wear their head-scarves. But Ka is also drawn by his memories of the radiant Ipek, now recently divorced.
Amid blanketing snowfall and universal suspicion, Ka finds himself pursued by figures ranging from Ipek's ex-husband to a charismatic terrorist. A lost gift returns with ecstatic suddenness. A theatrical evening climaxes in a massacre. And finding God may be the prelude to losing everything else.
Touching, slyly comic, and humming with cerebral suspense, Snow is of immense relevance to our present moment
6. Reading Lolita in Tehran by Azar Nafisi
Every Thursday morning for two years in the Islamic Republic of Iran, a bold and inspired teacher named Azar Nafisi secretly gathered seven of her most committed female students to read forbidden Western classics. As Islamic morality squads staged arbitrary raids in Tehran, fundamentalists seized hold of the universities, and a blind censor stifled artistic expression, the girls in Azar Nafisi's living room risked removing their veils and immersed themselves in the worlds of Jane Austen, F. Scott Fitzgerald, Henry James, and Vladimir Nabokov. In this extraordinary memoir, their stories become intertwined with the ones they are reading. Reading Lolita in Tehran is a remarkable exploration of resilience in the face of tyranny and a celebration of the liberating power of literature
7. Love in Exile by Bahaa Taher
In Love in Exile Bahaa Taher presents multilayered variations on the themes of exile, disillusionment, failed dreams, and the redemptive power of love. Unwilling to recant his Nasserist beliefs, the unnamed narrator is an Egyptian journalist in a self-imposed exile in Europe after conflict with the management of his newspaper and a divorce from his wife. Absorbed in introspection over his impotent position at the paper and in ill health, he suddenly finds himself faced with two issues he cannot ignore: the escalating tensions in Israeli-occupied Lebanon and, more personally, an unexpected love affair with a much younger Austrian woman, Brigitte. The narrator's familial exile has left him a "long-distance father" facing the difficulties of raising children from whom he is rapidly growing distant. His son is drifting into fundamentalism while his daughter falls under the materialistic sway of the west. After struggling mightily to remain part of their lives, he finds himself marginalized and rejected. Brigitte, also an exile of sorts, encourages him to turn his back on the problems and pressures of the everyday world and cocoon himself in the warmth of their love. However, the horror of events surrounding the occupation of Lebanon in 1982 soon shocks them out of their contentment and safety 
8. The Bamboo Stalk by Saud Alsanousi
This is (kind of) a feel-good coming-of-age novel where the Kuwaiti-Filipino protagonist (sort of) gets his groove back. It tackles serious issues of identity and growing up between two places, while fitting in nowhere.
9. Sinalcol by Elias Khoury  
If you love Elias Khoury (as you, as a right-thinking person, should), then it is impossible not to love this book, which spins out many of the themes and stylistic obsessions of his earlier novels, even revisiting some favorite characters. Yes, it takes place during Lebanon's civil war, but it is maybe his gentlest look at violence. A big, sprawling book that can be lived inside for your whole vacation.
10. URMA by Deeba Salim Irfan
Tired of reading the one-dimensional portrait of Iranian women, as submissive victim under oppression in the name of religion and patriarchy, Deeba Salim Irfan's URMA presents a counter narrative, of Iranian women who are bold and resilient even in the face of extreme loss.
A novel with a backdrop of Iranian revolution of 1979, URMA has to leave everything behind - her home, her friends and her love. She calls Athens her home, but can she ever wake up to the first snow and feel the glee she did in Tehran? A heart-warming story of a woman, in pursuit if her lost life!
***
Source:
Readings based on the Goodreads recommendation, your middleeast and more. https://www.goodreads.com/list/show/1336.Best_Middle_East_Fiction
http://www.yourmiddleeast.com/columns/article/7-beach-reads-by-arab-authors-for-the-summer-2015_33202
To buy URMA:
https://www.amazon.com/Urma-Iranian-Womans-pursuit-lost/dp/1468198173/ref=sr_1_6?s=books&ie=UTF8&qid=1487533018&sr=1-6&keywords=URMA