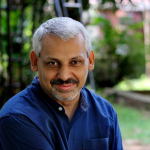 About Him
Anees is an award-winning Indian Author who works for an Advertising Agency. His works which have been nominated / won awards are - Vanity Bagh, The Small Town Sea and The Bling Lady's Descendants.
Welcome to 'Candid-with-Deeba,' Anees. It's a pleasure to have you as our Guest. I would like to ask you the following questions:
Deeba: When did you know you wanted to become a writer? Did you get any professional training in writing?

Anees : I must have been 15 or 16 when I first felt the urge to write. No, I didn't attend any creative writing course. I am terrified by the idea of getting trained to do anything I naturally like to do. Anyway, I am not academically qualified to attend any university of high repute.
Deeba: You have written five books over six years and in fact you had two books published the same year. What is your writing process? How long do you take to finish a book and how long does it take for you to edit it? Do you use an external editor or do you self-edit?

Anees : It took me two decades to write those five books, not six years. They appear to have been written in a short span of time because they found publishers in quick succession after being repeatedly rejected for many years. I write continuously, I discard drafts continuously. And I like to write for long hours but that is not possible as I have a very hectic day job. My first book 'The Vicks Mango Tree' had more drafts than I could count and took six or seven years to complete. I could finish all other books in two years or so, except 'Tales from a Vending Machine', which took about six months to complete. Till my book is ready for submission, no one reads it, not even my literary agent. Once the book is with the publisher, an editor will step and we will have discussions.
Deeba: How do you find time with your full-time job in advertising? With my background in Advertising, I am curious to know which area of advertising do you work in?

Anees : Well, I write very early in the morning. I write at least 3 hours a day and I sometimes write during the lunch break. I started my career as a trainee copywriter with FCB ULKA, Cochin and now I head both the business and creative operations of the Cochin branch. Besides that, I head the creative department of FCB ULKA, Chennai.
Deeba: How did you get your first publisher? How long did it take? Share with us your journey.

Anees : As I mentioned earlier my manuscripts were repeatedly rejected for many years by publishers and literary scouts. About seven years back I sent a query letter to an agent called Kanishka Gupta in the guise of a young Muslim girl. This girl was the protagonist of 'Tales from a Vending Machine', the book I had just finished writing and wanted an agent for. The voice and the plight of the young girl moved Kanishka. He wrote immediately back, asking for sample chapters. Then he wanted to read the entire book. A week later he sold the book to HarperCollins.
Deeba: Do you ever get writer's block? How do you handle it?

Anees : Sometimes I write slower than my usual pace. But I always find a way to regain my rhythm.
Deeba: Which of your books is closest to your heart and why?

Anees : I like or dislike all my books for different reasons. But they all have the same place in my life.
Deeba: Share with us your five all time favorite books. And what are you currently reading?

Anees : 'A House for Mr Biswas' by V S Naipaul, 'In a Free State' by V S Naipaul, 'Chronicle of a Death Foretold' by Gabriel Garcia Marquez, 'A Single Man' by Christopher Isherwood, and 'The Sound and the Fury' by William Faulkner. I am currently reading 'Satin Island' by Tom McCarthy.
Deeba: There is one question that I throw at all my guests, what is your favorite non-alcoholic drink?
Deeba: What would be your advice to the aspiring authors of 'The Write Scene,' who are on the road to get published?

Anees : Read, read, read. Write, write, write. And never give up. Never.
Can we have your views on our new initiative of 'Young Author Awards' to recognize the next generation authors under the age of 30?

Anees : Writing is a lonely and excruciating task. And nothing can be more rewarding than recognitions from people who love and promote literature. I sincerely hope Young Authors Awards will inspire the new breed of writers to write more and write more creatively.